Top 5 Marriage Sweatshirts for Couples Celebrating Their Union
Celebrate the journey of love and togetherness with our handpicked selection of marriage sweatshirts. These aren't just clothes; they're a symbol of your unwavering love and commitment. Whether you're newlyweds or marking years of cherished union, these sweatshirts are designed to add warmth and unity to your relationship. Get ready to express your love and wear your hearts on your sleeves with the top 5 marriage sweatshirts.
Celebrating Love and Unity
Celebrating your love doesn't require grand gestures; it's the everyday moments that matter most. Whether you're cuddling up for a movie night, embarking on a road trip adventure, or simply wearing matching marriage sweatshirts, these small acts of togetherness strengthen your bond and bring joy to life. These sweatshirts go beyond clothing; they're a trendy and playful way to tell the world that your love is united.
The Trend of Couples Sweatshirts
Join the trend of couples sweatshirts and wear your unity with style. Whether it's a significant event or a simple day, sporting matching marriage sweatshirts is a delightful way to express, "We're in this together, and we love it!" Explore our top 5 picks for comfy, stylish sweatshirts that radiate love and togetherness.
Things to Consider When Buying Marriage Sweatshirts
Before diving into our top picks, let's discuss the key factors to consider when choosing marriage sweatshirts:
Comfort and Quality: Prioritize sweatshirts made from soft, high-quality fabrics like cotton or a cotton-polyester blend for ultimate warmth and coziness. Ensure they have sturdy stitching for durability and a comfortable fit.
Personality and Style: Select sweatshirts that reflect your personality and style as a couple. Whether you prefer minimalistic designs or bold, vibrant prints, your sweatshirts should resonate with your uniqueness.
The Message: Choose a message or design that represents your relationship. It could be a cute heart with your initials, a funny quote, or a simple declaration of your wedding year. The message should hold sentimental value.
Top 5 Marriage Sweatshirts for Couples
Ready to celebrate your love and union in a fashionable, comfy way? Let's dive into our top 5 marriage sweatshirts tailor-made for couples like you!
Engagement, Mrs. Sweatshirt
"Elevate your engagement celebration with our
Engagement Mrs. Sweatshirt
. Customizable and chic, this sweatshirt adds a touch of style to your pre-wedding moments. The 'Engagement Mrs.' design is tailored to mark this special occasion. Available in various sizes, it offers comfort and individuality. While some customers reported minor shrinkage after washing, its unique appeal makes it a delightful choice for commemorating your engagement in fashion-forward comfort."
Wifey and Hubby" Duo Sweatshirts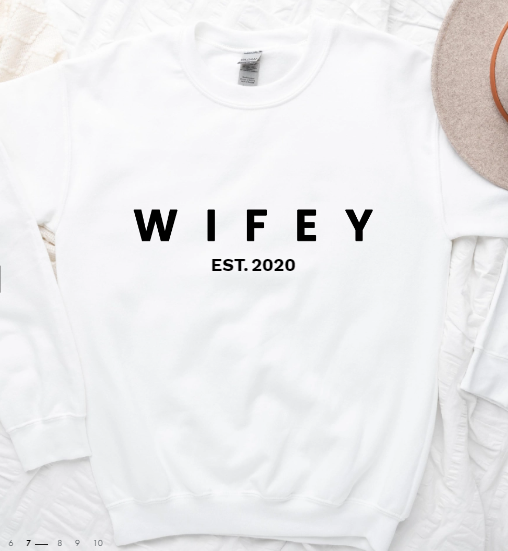 The "
Wifey & Hubby
" sweatshirts come in a pair, letting you and your spouse step out in perfect synchronization.
Miss to Mrs. Last Name" Sweatshirts
Celebrate your journey from singlehood to marriage with "
Miss to Mrs. Last Name"
sweatshirts. These personalized bridal wear options are perfect for brides-to-be and bridal parties. They feature an elegant 'Miss to Mrs' text with customizable last names, making them stylish and durable. While they require gentle washing, they may experience slight shrinkage.
We do personalized engagement top sweatshirts.
The "
We Do
" sweatshirts embody the spirit of love and commitment, symbolizing unity and shared vows. These matching sweatshirts are perfect for couples celebrating their love story, whether it's an engagement party or an anniversary. They offer comfort, various sizes, and customization options. While they have no reported drawbacks, they are a stylish addition to your wardrobe.
Mrs. Personalized With Ring Top" Sweatshirts
Introducing the
"Mrs. Personalized With Ring Top" Sweatshirts
, a chic and personalized choice for brides. These sweatshirts feature an elegant ring design that adds a touch of glamour to your bridal attire. Available in various sizes, they offer a comfortable fit and can be customized for a personal touch. While there have been reports of minor shrinkage after washing, these sweatshirts are a stylish and hassle-free addition to your bridal wardrobe.
How to Style These Sweatshirts
Styling your marriage sweatshirts is a breeze. Here are some tips for both casual days and special evenings:
Casual Day Out Styles
Pair your marriage sweatshirts with comfy denim jeans for a relaxed day out.
Opt for sleek sneakers, matching or complementary in color.
Accessorize with sunglasses, caps, or beanies for a cool and comfortable look.
Evening and Date Night Looks
Elevate your look with well-tailored black or dark-colored pants.
Choose mules for her and loafers for him for a touch of sophistication.
Keep accessories minimal to let the sweatshirt shine, adding a classy watch or subtle jewelry.
Celebrating Love and Union with Sweatshirts
Celebrate your love and unity in creative ways with your marriage sweatshirts:
Surprise Gifting Ideas: Surprise your partner with matching sweatshirts that reflect your love, whether it's a cute picture, meaningful words, or significant dates.
Couple Photoshoot Ideas: Arrange a photoshoot to capture your love and unity, featuring your adorable matching sweatshirts.
Gatherings of Friends and Family: Involve your loved ones by wearing matching sweatshirts to family events or gatherings with friends, sharing your happiness and love.
As you slip into the embrace of your marriage sweatshirt, cherish the reminder that celebrating love and unity is a lifelong commitment. Whether you're donning these sweatshirts as newlyweds or seasoned partners, they're a delightful fusion of comfort, style, and self-expression.
Celebrate your love story, savor every moment, and kindle the everlasting flame of your affection with matching marriage sweatshirts that proudly declare, 'We're in this together! '
Find your perfect marriage sweatshirt at
Adorb.
where comfort meets style and love is celebrated in fashion. It's a cozy, stylish way to symbolize your enduring commitment.
---